What are Zygomatic Implants?
---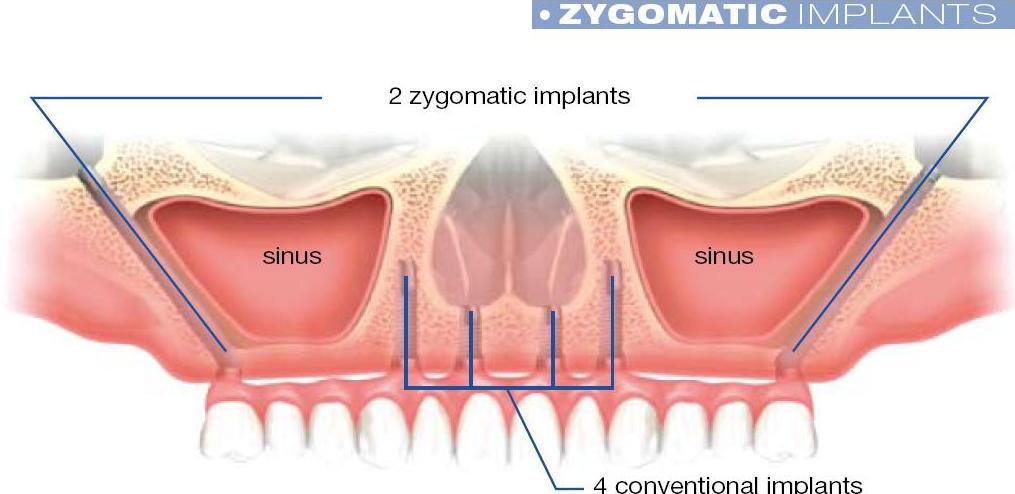 ---
Traditionally, if you did not have sufficient bone mass in your jaws, the only option was bone graft surgery to regenerate and/or rebuild enough bone mass to create a sufficient foundation for traditional dental implants. Zygomatic implants are used in the upper jaw when there is insufficient bone for ordinary implants.
These implants provide support for implant dentures when there has been a substantial amount of bone loss from the upper jaw and ordinary implants cannot be used on their own to support a denture.
The Zygomatic implants are longer than ordinary dental implants and "anchor" to the very strong bulk of the bone that forms the cheekbone, or zygomatic arch ... hence their name. This means that the implants can be used as an alternative to complex bone grafting operations.
Typically, dental implant placement is most difficult in the upper back region of the mouth due to missing teeth that increase the progression of bone loss. In the past, in addition to bone grafting, a patient might have to have a sinus lift procedure as well, prior to getting his or her implants.
The development of the Zygoma implant presents a unique alternative for patients who wish to avoid bone grafting and sinus lifts, but still get dental implants, because the implants can be placed with only one surgical procedure and eliminate the need for grafting.
Prior to Zygomatic implant surgery, a three-dimensional (CBCT) scan will be taken to assess the amount of bone available in the upper jaw to allow us to plan the placement of these implants. It is also possible to make an anatomical model of your jaw, which enables us to visualize the precise shape of the jaw and cheekbone, without having to carry out wide surgical exposure. Typically, two Zygomatic implants are used along with two to four ordinary implants.
After the long Zygomatic implants are anchored on the upper jaw inside the zygomatic bone, a provisional prosthesis can be fixed immediately after placement of the implants, until the complete restoration is achieved. Patients leave with a temporary prosthesis which allows them essentially to have "Teeth in a Day!"
The final prosthesis is fabricated after adequate healing time and integration of all implants placed during surgery.