A Soft-Tissue-Friendly Implant Solution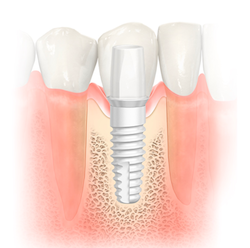 NobelPearl is a 100% metal-free, two-piece ceramic implant solution with a cement-free internal connection, which offers a unique new alternative to stanium. Designed to support a natural soft-tissue appearance. NobelPearl implants can help patients attain the natural, aesthetic excellence they desire.
Benefit from:
Natural aesthetics – NobelPearl is designed to support a natural soft-tissue appearance. Its white material is especially beneficial for patients with thin gingival biotype.
Soft-tissue attachment – Designed for excellent soft-tissue attachment and low inflammatory response.
Natural harmony with soft tissue – Zirconia may promote microcirculatory dynamics in peri-implant mucosa that are comparable to those around natural teeth.
Low plaque – Zirconia has demonstrated low plaque affinity.